300 Hour Yoga Teacher Training - September 2016
This class is taught by: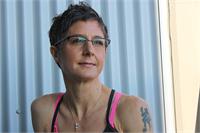 Kim loves teaching yoga! She promises to help you heal your body, calm your mind and discover who you really are. She took her first yoga class in 1988 and has been helping students to practice yoga since 1996.
Kim and her husband, Chris Blades, opened Charm City Yoga in 2000 and the studio now has 7 locations and offers 100's of classes per week. Countless students have been transformed by the Charm City Yoga method of teaching, which maintains that an individualized yoga practice will help you thrive.
Kim's teacher training, the first in Baltimore, continues to cultivate instructors who innovate and inspire. Kim co-leads Baltimore's first 6 day/week Mysore program, where you can get individual attention while guiding your own practice.
Kim travels to India each year to study Astanga yoga at KPJAYI. She is grateful to Richard Freeman for his care and continued tutelage. Kim is committed to yoga as a path to enlightenment
You have 200 hours of training under your mat.* You can guide students through an intelligent, effective yoga class. Now it's time to advance your career.
Through a dedicated apprenticeship and by participating in professional workshops, our immersive 6-month program will help you hone your unique teaching style and voice. What makes YogaWorks' 300-hour program stand out?
OUR PERSONAL APPROACH
The mentor relationship was originally how yoga was passed down to new teachers and YogaWorks continues this effective learning tradition.
MENTORS:
-Kim Manfredi
-Jessica Crowley Ambrose
-Sarah Cook
-Monica Motley
One-on-one mentor relationship to guide you throughout the program and beyond
Observing and assisting your mentor in class
A final project designed to help define yourself as a yoga teacher
Addressing yoga teaching questions and discussions in small group meetings with your mentor and other students
YOUR OPPORTUNITY FOR DEEPER LEARNING
To add to your teaching tool kit, each month you will participate in weekend workshops on a wide variety of teaching topics, which include:
Teaching vinyasa flow and advanced asana
Practicing hands-on adjustments
Injury assessment and management
Understanding restorative yoga and yoga for chronic illness
Deeper meditation, subtle body and yoga philosophy studies
Tailoring classes for beginners and pregnant women
Understanding the business of yoga
Graduates are eligible to register with Yoga Alliance as a RYT 500.
THIS TRAINING MEETS ONCE PER MONTH FOR THE DURATION OF THE TRAINING

2016 Training dates: Sept 17, 18; Oct 22, 23; Nov 12, 13; Dec 10, 11; Jan 14, 15; Feb 11, 12; Mar 11, 12; Apr 1, 2
Training times: Saturdays, 10:30am - 7:30 pm; Sundays, 9am - 6pm
Cost: $3000 ($2800 before 7/1/2016)
**Additional classes required for program are not included in tuition**