200 Hour Yoga Teacher Training - Fall 2016
This class is taught by: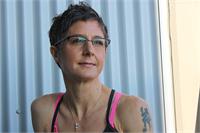 Kim loves teaching yoga! She promises to help you heal your body, calm your mind and discover who you really are. She took her first yoga class in 1988 and has been helping students to practice yoga since 1996.
Kim and her husband, Chris Blades, opened Charm City Yoga in 2000 and the studio now has 7 locations and offers 100's of classes per week. Countless students have been transformed by the Charm City Yoga method of teaching, which maintains that an individualized yoga practice will help you thrive.
Kim's teacher training, the first in Baltimore, continues to cultivate instructors who innovate and inspire. Kim co-leads Baltimore's first 6 day/week Mysore program, where you can get individual attention while guiding your own practice.
Kim travels to India each year to study Astanga yoga at KPJAYI. She is grateful to Richard Freeman for his care and continued tutelage. Kim is committed to yoga as a path to enlightenment
The Charm City Yoga 200 Hour Teacher Training is for all serious students of yoga who want to deepen their practice and learn how to share it with others. Teaching is a wonderful way to move into the art of giving yoga. In that giving, as teachers, we learn that to give is to receive, equally important in health and life.
In this training, you will learn to teach not only asana (postures), but all 8 limbs of yoga. You will learn to teach classes that are a dynamic expression of your personal relationship to the practice. Your life and teaching will become an example that inspires others to live in accordance with the yoga tradition of peace and happiness. This unique expression of your yoga will join your individual light with the collective light of the sages who have come before you in the name of union.
Early-bird discount of $2700 granted to those who pay in full before July 31st, 2016. Cost after is $2900.
Training dates are:
1. September 30th, October 1st, 2nd, 2016
2. October 28th, 29th, 30th, 2016
3. November 4th, 5th, 6th, 2016
4. December 2nd, 3rd, 4th, 2016
5. January 6th, 7th, 8th, 2017
6. February 3rd, 4th, 5th, 2017
7. March 17th, 18th, 19th, 2017
8. April 21st, 22nd, 23rd, 2017
Class times are: Fridays, 7:30-10:30pm; Saturdays 12:30-8:30pm; Sundays 9:00am-4pm
**Additional classes required for program are not included in tuition**