Kim Manfredi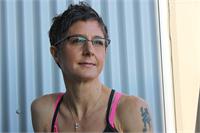 Kim loves teaching yoga! She promises to help you heal your body, calm your mind and discover who you really are. She took her first yoga class in 1988 and has been helping students to practice yoga since 1996.
Kim and her husband, Chris Blades, opened Charm City Yoga in 2000 and the studio now has 7 locations and offers 100's of classes per week. Countless students have been transformed by the Charm City Yoga method of teaching, which maintains that an individualized yoga practice will help you thrive.
Kim's teacher training, the first in Baltimore, continues to cultivate instructors who innovate and inspire. Kim co-leads Baltimore's first 6 day/week Mysore program, where you can get individual attention while guiding your own practice.
Kim travels to India each year to study Astanga yoga at KPJAYI. She is grateful to Richard Freeman for his care and continued tutelage. Kim is committed to yoga as a path to enlightenment
Kim Manfredi instructs the following:
You have 200 hours of training under your mat.* You can guide students through an intelligent, effective yoga class. Now it's time to advance your career.

Through a dedicated apprenticeship and by participating in professional workshops, our immersive 6-month program will help you hone your unique teaching style and voice. What makes YogaWorks' 300-hour program stand out?
OUR PERSONAL APPROACH

The mentor relationship was originally how yoga was passed down to new teachers and YogaWorks continues this effective learning tradition.

MENTORS:

-Kim Manfredi

-Jessica Crowley Ambrose

-Sarah Cook

-Monica Motley

One-on-one mentor relationship to guide you throughout the program and beyond
Observing and assisting your mentor in class
A final project designed to help define yourself as a yoga teacher
Addressing yoga teaching questions and discussions in small group meetings with your mentor and other students
YOUR OPPORTUNITY FOR DEEPER LEARNING

To add to your teaching tool kit, each month you will participate in weekend workshops on a wide variety of teaching topics, which include:

Teaching vinyasa flow and advanced asana
Practicing hands-on adjustments
Injury assessment and management
Understanding restorative yoga and yoga for chronic illness
Deeper meditation, subtle body and yoga philosophy studies
Tailoring classes for beginners and pregnant women
Understanding the business of yoga
Graduates are eligible to register with Yoga Alliance as a RYT 500.

THIS TRAINING MEETS ONCE PER MONTH FOR THE DURATION OF THE TRAINING


2016 Training dates: Sept 17, 18; Oct 22, 23; Nov 12, 13; Dec 10, 11; Jan 14, 15; Feb 11, 12; Mar 11, 12; Apr 1, 2

Training times: Saturdays, 10:30am - 7:30 pm; Sundays, 9am - 6pm

Cost: $3000 ($2800 before 7/1/2016)

**Additional classes required for program are not included in tuition**




Is finding 90 minutes in your day for yoga a challenge? No worries -we offer Hot Yoga Express: A condensed, fast paced hot vinyasa practice with an upbeat vibe. Lengthen, strengthen, tone and breathe, getting the most out of your practice in just 60 minutes of mindful effort. Level 2, or 2 Diamond, classes are suitable for intermediate students. The basic postures are expanded to include more difficult variations and may be described with less detail. The class will flow at a faster pace and the asanas will be held longer. The classes introduce more advanced breathing techniques and concepts in yogic philosophy including the energetic body.




A slower paced and more descriptive version of our signature Vinyasa class, a vigorous, flowing style of yoga. Breath awareness and formal relaxation are introduced. The room is heated to body temperature so your body is warmed, allowing for deeper stretching. The muscles, tendons and ligaments become soft and more flexible. The heat promotes sweating which is a method of cleansing to aid in the healing aspects of this yoga style. Please bring water and a towel.


Level 1, or 1 Diamond, classes are suitable for beginners who are looking for a slower paced, more descriptive experience. The class will help you develop body awareness, learn the basic postures (asanas) and their modifications. The emphasis on proper alignment will help you build strength slowly and safely. Learn yogic breathing and how to link breath with movement. Have fun in this informative class.




Hot Vinyasa is a vigorous yoga and the signature style of Charm City Yoga. The room is heated to body temperature so your body is warmed, allowing for deeper stretching. The muscles, tendons and ligaments become soft and more flexible. The heat promotes sweating which is a method of cleansing to aid in the healing aspects of this yoga style. All levels of practitioners are welcomed. Please bring water and a towel.


Level 2, or 2 Diamond, classes are suitable for intermediate students. The basic postures are expanded to include more difficult variations and may be described with less detail. The class will flow at a faster pace and the asanas will be held longer. The classes introduce more advanced breathing techniques and concepts in yogic philosophy including the energetic body.




Is finding 90 minutes in your day for yoga a challenge? No worries -we offer Vinyasa Express: A condensed, fast paced vinyasa practice with an upbeat vibe. Lengthen, strengthen, tone and breathe, getting the most out of your practice in just 60 minutes of mindful effort. Level 2, or 2 Diamond, classes are suitable for intermediate students. The basic postures are expanded to include more difficult variations and may be described with less detail. The class will flow at a faster pace and the asanas will be held longer. The classes introduce more advanced breathing techniques and concepts in yogic philosophy including the energetic body.




The Charm City Yoga 200 Hour Teacher Training is for all serious students of yoga who want to deepen their practice and learn how to share it with others. Teaching is a wonderful way to move into the art of giving yoga. In that giving, as teachers, we learn that to give is to receive, equally important in health and life.
In this training, you will learn to teach not only asana (postures), but all 8 limbs of yoga. You will learn to teach classes that are a dynamic expression of your personal relationship to the practice. Your life and teaching will become an example that inspires others to live in accordance with the yoga tradition of peace and happiness. This unique expression of your yoga will join your individual light with the collective light of the sages who have come before you in the name of union.

Early-bird discount of $2700 granted to those who pay in full before July 31st, 2016. Cost after is $2900.

Training dates are:

1. September 30th, October 1st, 2nd, 2016

2. October 28th, 29th, 30th, 2016

3. November 4th, 5th, 6th, 2016

4. December 2nd, 3rd, 4th, 2016

5. January 6th, 7th, 8th, 2017

6. February 3rd, 4th, 5th, 2017

7. March 17th, 18th, 19th, 2017

8. April 21st, 22nd, 23rd, 2017

Class times are: Fridays, 7:30-10:30pm; Saturdays 12:30-8:30pm; Sundays 9:00am-4pm

**Additional classes required for program are not included in tuition**