Kim Manfredi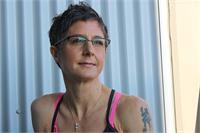 Kim loves teaching yoga! She promises to help you heal your body, calm your mind and discover who you really are. She took her first yoga class in 1988 and has been helping students to practice yoga since 1996.
Kim and her husband, Chris Blades, opened Charm City Yoga in 2000 and the studio now has 7 locations and offers 100's of classes per week. Countless students have been transformed by the Charm City Yoga method of teaching, which maintains that an individualized yoga practice will help you thrive.
Kim's teacher training, the first in Baltimore, continues to cultivate instructors who innovate and inspire. Kim co-leads Baltimore's first 6 day/week Mysore program, where you can get individual attention while guiding your own practice.
Kim travels to India each year to study Astanga yoga at KPJAYI. She is grateful to Richard Freeman for his care and continued tutelage. Kim is committed to yoga as a path to enlightenment
Kim Manfredi instructs the following:
Hot Vinyasa is a vigorous yoga and the signature style of Charm City Yoga. The room is heated to 85 to 90 degress so your body is warmed, allowing for deeper stretching. The muscles, tendons and ligaments become soft and more flexible. The heat promotes sweating which is a method of cleansing to aid in the healing aspects of this yoga style. All levels of practitioners are welcomed. Please bring water and a towel.


Level 2, or 2 Diamond, classes are suitable for intermediate students. The basic postures are expanded to include more difficult variations and may be described with less detail. The class will flow at a faster pace and the asanas will be held longer. The classes introduce more advanced breathing techniques and concepts in yogic philosophy including the energetic body.