Martha McAlpine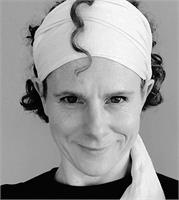 Martha McAlpine has practiced yoga for 16 years exploring astanga, vinyasa, yin, kundalini, yoga trance dance, and most recently anusara styles of yoga. She completed her 500 hour teacher training at Charm City Yoga in 2010. Her class is a flowing combination of these styles that emphasizes the space from one pose to the next as well as the poses themselves. Enjoyable, challenging, and welcoming, she encourages her students to come out of an athletic relationship with their practice and instead stretch as intuitively as if just waking, or dancing. No judgements, just listen to what opens.
Martha McAlpine instructs the following:
Perhaps the most popular style practiced in the West, these classes keep you moving! You'll flow continuously through strong sequences of traditional Sun Salutations and standing postures, linking breath with movement and work to build strength and endurance as you push the edge of your balance and flexibility. In Sanskrit vinyasa means "to place in a special way," and that informs the graceful dance that is a well-planned vinyasa sequence. When you hit that sweet spot and the endorphins kick in, a pushup suddenly becomes an exercise in weightlessness—you glide, you float, you sail into a blissful final relaxation. Now you get the hype, right?

Level 2, or 2 Diamond, classes are suitable for intermediate students. The basic postures are expanded to include more difficult variations and may be described with less detail. The class will flow at a faster pace and the asanas will be held longer. The classes introduce more advanced breathing techniques and concepts in yogic philosophy including the energetic body.




Kundalini yoga philosophy is based on 7 chakras or energy points. These points are located along the spine. Each class focuses on the movements of the spine to help you open, balance and liberate stuck energies.




Kundalini yoga philosophy is based on 7 chakras or energy points. These points are located along the spine. Each class focuses on the movements of the spine to help you open, balance and liberate stuck energies.




March 24, 25, 26, 2017
April 21, 22, 23, 2017
May 19, 20, 21, 2017
Friday 6:30-9:30PM, Saturday 12:30-8:30PM, Sunday 10AM-4PM
$1000
1024 Light Street, Baltimore MD, 21230
800.336.9642 X12


Join Martha McAlpine for 100 transformational hours to explore the Power of Prana.

Prana is the vital life force that runs through all animated things ~ plants, animals, organisms. We
perceive, store, and embody the Prana in our lives as ideas, memories, moods, illness and vitality. Yoga is a means of increasing our awareness of and engagement in this subtle but potent force in our lives.

Learn with me as a large group in lecture format. Practice teach and discuss in small groups. Refine your knowledge one-on-one, on your own, and if you choose through private instruction.

Topics we will cover include:
• A re-examination of asana pose by pose and in sequences to understand its energetic effects
• An introduction to Kundalini kriya/gestures, their purposes, uses, and teaching techniques
• The physical, emotional, and spiritual role of the chakra system in terms of how to maintain our
overall well-being
• Pranayama theory and techniques both as a practice of its own as well as integrated into
posture, movement, and meditation
• Bandha, mudhra, and mantra as tools for generating a shift in perception and as a means of
healing
• How to bring these components together to offer themed, purposed classes for yourself and
for your students


Transformation of your teaching starts with transformation of your own practice and your own choices. Unblocking and balancing Prana is not only accomplished on your mat. An exploration of your habits, patterns, and stories will actively create freedom in your life. Your students, your
relationships, your finances, your sense of your Self will all benefit.


We build the powerful teacher in you through:
• Guided self-inquiry to remove/unblock limiting beliefs
• Expanded mastery of your specific talents and interests
• Energetic self-care practices for both during teaching as well as at rest to prevent burnout
• Required daily practice tailored to you to begin to feel the potent quality of these techniques
firsthand


Throughout this training we will build consistency, refine the details, and create a quality of devotion in your own practice so you can teach with familiarity and authenticity. In this way, you will build the confidence and the content to be the yoga teacher you most desire to be.

This course is designed for yoga teachers who have completed a 200 hour level teacher training and beyond. However, for motivated yoga enthusiasts, you are welcome and invited to set up an interview with Martha to see that the program and its content will suit your interests and abilities.

Requirements:
• Attendance at all of the weekends
• 1 class per week with Martha
• 120 minutes total home practice per week. This can be 10 minutes AM/PM or 20 minutes total
6x per week, or 2 60 minute practices. Mediation, pranayama, and/or asana. Any variation that
has regularity and supports your schedule and needs.
• Reading and journaling through out the course duration. Details once the course begins.

If you choose you can purchase private instruction with Martha before or during the course. Time beforehand helps to define what you hope to achieve and improves what you get out of the course. Time during helps to provide insight into any struggles you may be facing, connect the course materials to your teaching more personally, and ask any private questions the training or the increase in personal practice may bring up.

A homeschool mama, yogi, cyclist, and cook, Martha McAlpine brings a love of life to all she does. Most recently, after 20 years of practice, 200 and 500 hour teacher trainings, and ten years of teaching Martha returned to the 200 hr Charm City teacher training to renew what she's learned and taught for years. In the past year she also completed the Spirit Junkie Master Class with Gabrielle Berstein, Marie Forleo's BSchool, an Art of Attention teacher module with Elena Brower, and the Vinyasa Krama Para teacher training of Rod Stryker. She believes modern research paired with ancient traditions makes for a rich, interesting, contemplative present moment. As a lifelong learner she looks forward to sharing her unique
perspective and abilities with you.




Let your voice be heard! Cheat sheets are provided with sanskrit mantras. Enjoy 30 minutes of bliss to start your weekend!